LED car light industry
o-lead o-leading.com 2018-06-08 15:07:10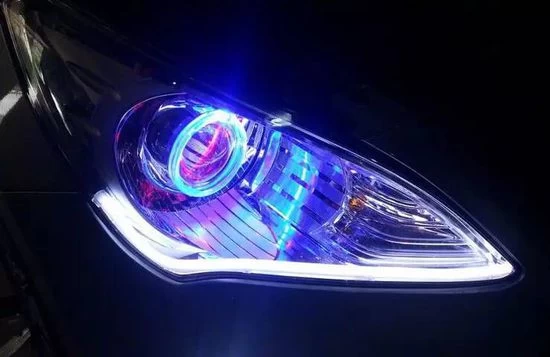 LED lights become a new direction for LED companies. An'an Optoelectronics, a subsidiary of San'an Optoelectronics, has long been involved in the LED lamp industry and has experienced rapid revenue growth in recent years. Hongli Zhihui has completed the business of LED headlights by acquiring Yishang headlights; even the LED packaging leader Mulinsen is about to enter the LED market. In the car light market, LED lights are undoubtedly a big new blue ocean. In this week's issue, we have sorted out the LED light industry.
1, LED lights history
LED lights have many advantages such as high efficiency and energy saving, long service life, fast response, and various shapes, and have gradually become the favored objects of more and more vehicle manufacturers. The LED headlight can reach a service life of about 20,000 hours compared to 500 hours for ordinary halogen headlights and 3,000 hours for HID headlights. In addition, LED headlights achieve equivalent illumination brightness compared to halogen headlights. 5% of the power consumption of halogen lamps. In addition, the use of LED headlamps in combination with other intelligent technologies can easily achieve headlight follow-up steering and adaptive headlight function. The former can help reduce the visual dead zone, which can individually extinguish some of the LED light source, or Automatically adjust the height of the headlights to avoid direct glare to the car causing the other driver to dazzle, and effectively improve the safety of driving at night.
As the technical bottleneck breaks through, the brightness of the LED light source continues to increase and the cost gradually decreases. The LED light source also gradually becomes a condition for becoming a car headlight light source. The first model to officially assemble the LED headlamps was the Lexus LS600h/LS600L, which debuted in 2007. This is also the first LED headlamp to be used in mass production models. This headlight was produced by Japan's Otaru Manufacturing Co., Ltd. In the early days, only the low-beam and auxiliary lighting used white LEDs.
The demand for car lights is affected by many factors such as vehicle output, car ownership, replacement, and consumption upgrades. China's auto market is in a period of growth. Therefore, the pre-installed market accounts for a large proportion of China's automotive lighting market, and the automotive lighting market is also in an increasing phase. The automotive lamp manufacturing industry shows tremendous potential for development.
At present, the use of LED light sources in turn signals, brake lights, high-position brake lights, interior lights, etc., has a high penetration rate. The relevant technologies and production processes are relatively mature. In the future, LED light sources will fully replace other light sources and be fully applied. These types of lights. With regard to the application of headlamps with higher technical content, the current application trend is the transformation of the second-generation halogen headlamps and the third-generation HID headlamps into the fourth-generation LED headlamps. At present, LED headlights are mainly used in joint venture high-end models.
2, LED lights industry chain
In addition to the traditional LED lighting industry chain chips, packages, and lamps, the LED industry chain also includes modules and lighting systems. The LED light source module contains one or more LED chips, mechanical and optical components, as well as drive modules, connectors, etc. The highly integrated LED package can effectively reduce the output of the module manufacturer's proprietary technology while allowing the luminaire manufacturer more space to carry out Headlight design. 
The entire LED lamp industry chain and the LED lighting industry chain have relatively big differences, because the car lamp manufacturers and automotive manufacturers supply chain is relatively closed, especially the automotive headlamps in the heat dissipation, reliability, brightness and other aspects of high threshold requirements, LED The largest market share in the automotive lighting industry is that of traditional automotive lamp manufacturers such as Otaru, Hella, Valeo, Stanley, etc. These manufacturers have a relatively fixed supply relationship with most of the world's first-tier car manufacturers. Therefore, the Chinese automotive lamp factory or upstream companies in the industrial chain are very Difficult to cut into the supply chain. In spite of this, China's auto lamp factory is still actively looking for opportunities to enter, starting from the low-tech interior lights, gradually turning to fog lamps, taillights and other applications, and finally develop high-margin headlamps; starting from the aftermarket, Gradually penetrate into the pre-installation market.
 
LED light chips and packaging, the current basic to Osram, Philips, CREE, Japan and other major international LED chip manufacturers, domestic chips rarely enter the pre-installed market. At present, Sanan Optoelectronics' subsidiary Anrui Optoelectronics has made breakthroughs in the front loading market.
 
In terms of LED vehicle modules, suppliers of integrated lighting solutions for foreign brands such as OSRAM and Nichia Chemical occupy leading positions in the industry, covering industrial lighting, urban lighting, automotive lighting, digital lighting and optoelectronic semiconductors. In addition to the above-mentioned suppliers of major foreign LED modules, some car lamp manufacturing companies such as Stanley Electric have also developed automotive LED module business. Through independent research and development and production, they provide automotive LED and module support for their entire lamp products. The automotive LED module suppliers, represented by Tongbao Optoelectronics, Liqing Automotive Technology (Shanghai) Co., Ltd., and Shanghai Chensun Optoelectronics Co., Ltd., rely on their own technical R&D and production capabilities, mainly serving their own branded vehicle manufacturers and gradually Going to the joint venture brand customer market. 
3, LED lights market size

According to the "2017 LED Automotive Lighting Industry Market Research Report" of OFweek Industry Research Center, the penetration rate of domestic LED lights in 2016 was about 10%~15%, and the overall market size of LED lights was more than 5 billion yuan, according to 2022 LED cars. With a lamp penetration rate of 60%, the domestic automobile market will achieve a compound growth rate of 5% in the next few years. By 2022, the domestic market size of LED lights will reach 76.6 billion yuan.