Reasons for instability of PCB electroless nickel plating solution
o-leading o-leading.com 2018-07-27 09:57:11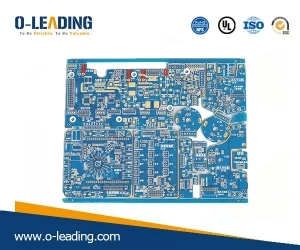 1. When the gas slowly releases the plating solution from the inside of the plating solution and starts to decompose by itself, the gas is not only released on the surface of the plating member, but also slowly and uniformly discharged in the entire plating solution.
2. The gas deposition rate is aggravated by the plating solution in the above situation. If the effective measures are not taken in time, the gas will escape faster and faster, and a large amount of bubbles will be generated, so that the plating solution is foamy.


3. Formation of black plating or deposits When the electroless nickel plating solution has a lot of foam, the plated parts and the walls begin to form a rough black coating, or a plurality of irregularly shaped black granular deposits are generated in the plating solution.


4. The color of the plating solution becomes lighter. During the self-decomposition process, the color of the plating solution is gradually weakened. For example, in the ammonia-containing alkaline electroless nickel plating solution, the color of the plating solution changes from dark blue to blue after self-decomposition. White, at the same time, can smell a pungent ammonia smell, when the ammonia smell disappears, the electroless nickel plating solution has completely decomposed.